---

Knowing Home
June 3, 2022

-

June 26, 2022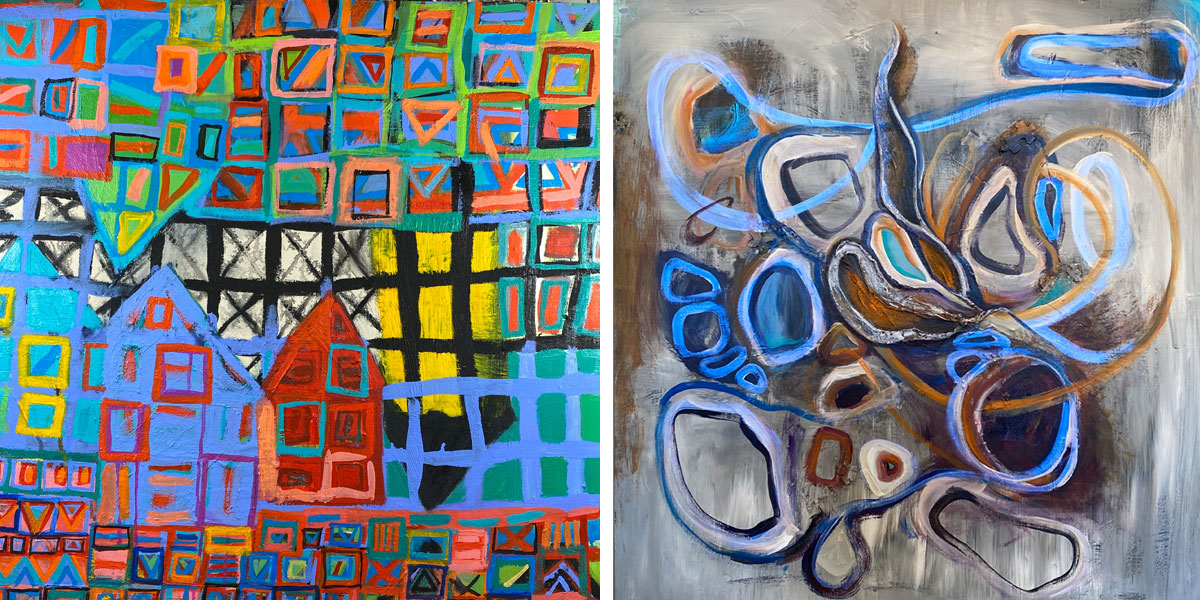 Michelle Daisley Moffitt and Dar VandeVoort
Nicholas Street Gallery – June 3-26
Opening reception, Friday June 3 from 5:30-7:30 pm
(Left) "Across the Street," Michelle Daisley Moffitt. (Right) "The Long Way," Dar VandeVoort
Michelle Daisley Moffitt – Artist Statement
I am interested in the emotive impact of color. I attempt to explore this emotive impact through strong color as it relates to abstracted natural forms. My use of the landscape form exists so that I may physically structure my images around natural forces. The images in nature are inexhaustible, allowing for constant variety to examine and manipulate color and the other formal elements. Through this manipulation of natural forms, I trace the passion and vigor that is present during the works conception. I want these landscapes or "inscapes", as I prefer to call them, to develop the personal symbolism within the image.
To me, my work conveys the urgency in acting on one's own emotions. These internal feelings spring from outside stimuli and are acted out aggressively. Since I am a private person, I feel my work speaks visually of my personality in ways that I choose not to speak verbally. It explores the depth of my soul and mind. When I work on these images, the universality of the range of primal emotions alive in every individual is explored on a grand scale and for this reason I feel they are objects to which every person can relate in one way or another. My intention is to translate the beauty of the human experience through the images I produce, not by simply explaining but by evoking.
Dar VandeVoort – Artist Statement
Michelle and I kept coming back to the thought of home. I know for me, home is my happy place, my own back yard, in my head, my heart, my eyes, my ears, the scent of the seasons throughout the timber. I think, whoever you are, wherever you're from, home will always give a sense of comfort, even if it happens to be totally new at a point in your life, as in this piece of abstract work, "The Long Way".
---
More to come…
Future exhibits and shows are announced all the time.
Please stay tuned.
---
NOTE ABOUT SHOWS
DATES & TIMES ARE SUBJECT TO CHANGE! Please refer to this page for updates as the event draws near. Artist receptions are often held the first Friday or Saturday of the month (your best bet is to come around 6-7 pm), unless otherwise noted. Galleries are often attended by a curator Saturday and Sunday, Noon-4pm, or by appointment at (402) 342-6452. Otherwise, shows can be viewed during normal business hours. When in doubt, contact us.