---

Michael Trenhaile Exhibit
June 3, 2022 @ 5:00 pm

-

8:00 pm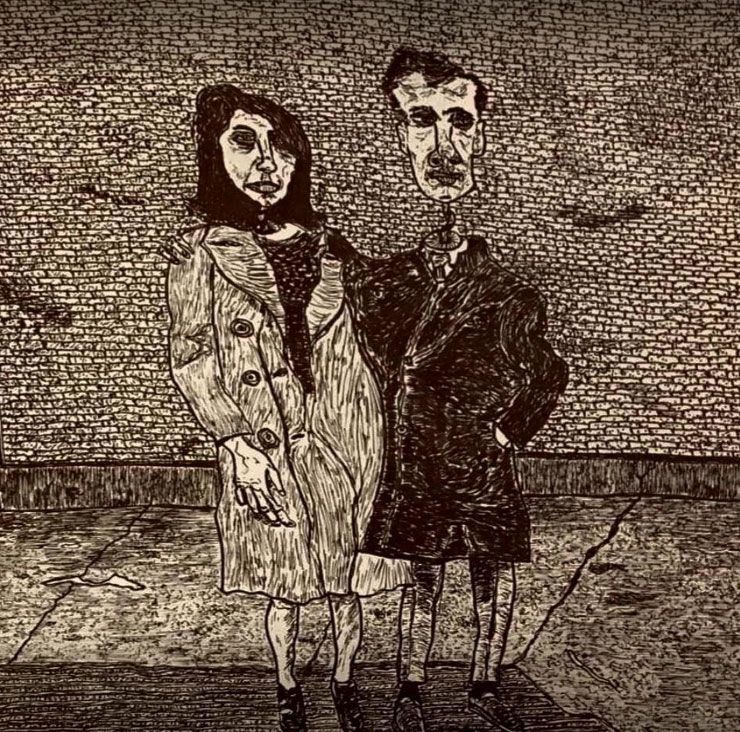 'I'm an artist first and a songster second."
On New Year's Day, 2015, I had a stroke that nearly killed me.  But I survived after being in a coma for 13 days.  While I was in the hospital, I couldn't write songs, poetry or really anything at all.  I could not speak. Communication was difficult.   Ashley Boe, (my ex-wife and my very good friend), strongly encouraged me to draw.  I didn't know it, but that was the ticket – drawing!
A few years go by. Luckily, I am surrounded by my kids; (I have six, ranging from age 9 to 24).  They call me," Father" or "Step-Father." I live at an apartment with a roommate and can visit the kids on a regular basis., Mostly what I do is draw and play music. I have been continuously practicing my art since the stroke occurred in 2015.
Specifically, art is the main source.  It's simple – I follow my muse, draw, play my guitar, and go from there. Several days will go by and nothing comes up as far as artistic inspiration.  Then it hits me, and I will draw until I am finished.  Music is next but the art is my first choice, at least for the present.  I figure that music and my artistic life will go backward and forward – it never ends.
Please join me at:
Hot Shops, Studio 323
1301 Nicholas St, Omaha, NE 68102
June 3, 2022 from 5 PM – 8 PM and
June 4, 2022 from 3PM – 8 PM
---
More to come…
Future exhibits and shows are announced all the time.
Please stay tuned.
---
NOTE ABOUT SHOWS
DATES & TIMES ARE SUBJECT TO CHANGE! Please refer to this page for updates as the event draws near. Artist receptions are often held the first Friday or Saturday of the month (your best bet is to come around 6-7 pm), unless otherwise noted. Galleries are often attended by a curator Saturday and Sunday, Noon-4pm, or by appointment at (402) 342-6452. Otherwise, shows can be viewed during normal business hours. When in doubt, contact us.